Deutsche Bahn and Ogilvy are drumming up support for the Deutschland-Takt and the new campaign slogan: More rail for everyone.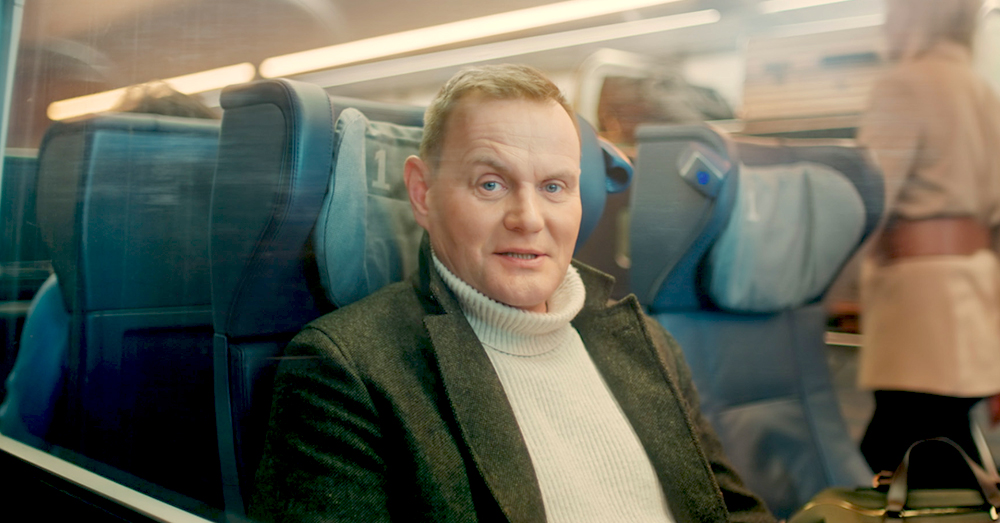 Frankfurt am Main, February 13, 2023 – There are many innovations in Deutsche Bahn's long-distance service. In 2023 rail travel is to become even more attractive and reliable for all travelers. The package will be staged in spoken rhymes by creative partner Ogilvy, to match the new, regular schedule and performed by charismatic actor Devid Striesow.
The central message: climate-friendly Deutsche Bahn is putting even more trains on rails. Stefanie Berk, Member of the Board for Marketing at DB Fernverkehr AG, explains: "2023 will be a record year with 3 new ICE trains entering service every month. The campaign focuses on the increased number of direct connections between many cities in Germany and also in Europe. For travelers, this means, for example, that they can choose from 37 connections a day from Cologne to Munich or 42 connections a day from Munich to Stuttgart – without changing trains. Rail travel will become even more reliable, flexible and comfortable thanks to these new ICEs and connections."
"We have a lot planned for 2023," reports Jürgen Kornmann, Chief Marketing Officer at Deutsche Bahn. "And with this campaign, we want to show our passengers that we are tackling many areas to advance the Deutschland-Takt schedule and make rail better and more reliable for more and more people." The campaign makes this claim clear both nationally and regionally with location-specific content.
The campaign, which starts on February 13, also introduces a new motto for the campaigns from 2023, which sums up Deutsche Bahn's big goal: "More rail for everyone." This expresses the fact that all the improvements in infrastructure and service have just one thing in focus: getting more and more people excited about rail with more trains, more connections and more climate protection.
The 27-second spot is flanked by numerous measures. Three online videos promote the direct connections Munich–Stuttgart and Cologne–Munich as well as the new XXL-ICE on the Hamburg–Cologne route. A large, regionally targeted OOH campaign and dynamic online banners communicate the location-specific timetable offers and improvements in the Deutschland-Takt in a striking and target-group-specific way.
"We looked for and found a perfect voice for the spoken rhymes in the films – this voice belongs to the well-known actor Devid Striesow," says Simon Oppmann, Creative Director at Ogilvy. "Our protagonist, himself a convinced train rider, didn't have to think twice when asked if he would like to be the actor and voice for the campaign." The combination of change-free travel, fast intervals and climate-friendly mobility is intended to make rail more attractive not only for Devid Striesow, but for many more travelers in Germany. The record number of 3.2 million long-distance passengers around Christmas 2022 confirms that this can be achieved.
Vimeo-Link: https://vimeo.com/797716811
The creators
Deutsche Bahn AG
Marketingkommunikation DB Fernverkehr
Stefanie Berk, Board Member Marketing
Dr. Thomas Kemper, Head Market Communikation
Stephanie Caspers, Senior Marketing Manager Market Communikation
Kerstin Vaupel, Senior Marketing Manager Market Communikation
Khaled El-Hussein, Head Marketing Austria / Italy
Group marketing
Jürgen Kornmann, Leiter Marketing & PR, CMO
Julia Janßen, Leiterin Marketingkommunikation & Kampagnenmanagement
Florian Schröder, Marketingkommunikation Personenverkehr
Markus Fälsch, Leiter Marketingkommunikation Personenverkehr
Ogilvy
Strategy: Carla Müller; Creation: Laura Hofmann, Simon Oppmann, Peter Römmelt, Sara Steiner; Consulting: Alice Baldczus, Rebecca Ramershoven, Roland Stauber: Agency producers: Tanja Frohwerk, Claudia Vaternahm
Media: Carat Deutschland
Share