Whitepaper: Why Brands Matter on Chinese eCommerce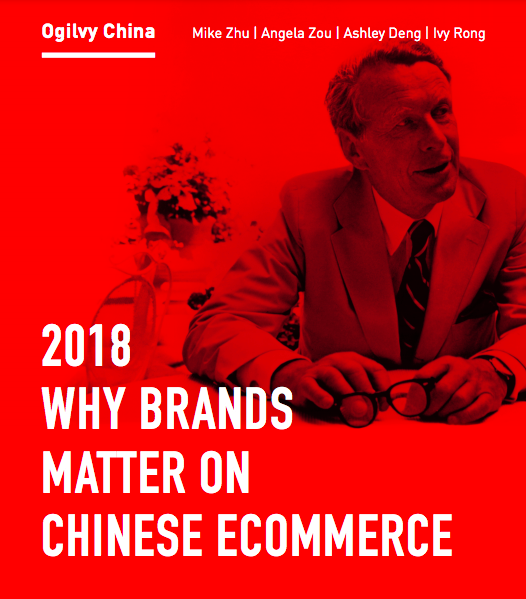 Ogilvy China today released a new whitepaper analyzing how brands can successfully navigate the Chinese Ecommerce environment. Titled Why Brands Matter on Chinese Ecommerce, the whitepaper draws upon data from China's Ecommerce platforms to provide insights, tools and strategies for brands to effectively engage online consumers. 
Mastering the ever-changing Ecommerce market is a key challenge for brands in China today. Analysts estimate that a total of 10 million online stores will sell over 1 billion products with a transaction value of more than 1 trillion dollars this year. In many categories consumers must choose from thousands of SKU's and brands, with the ability to compare prices in real time. Standing out and being able to differentiate in a sustainable way will determine a brand's success for the long term.  
"We want to enable brands to build a sustainable advantage that can deliver meaningful value for the long term," said Chris Reitermann, CEO of Ogilvy China and Co-CEO of Ogilvy Asia Pacific. "The fast changing Ecommerce environment tends to make brands more focused on the short-term sales growth rather than brand building for the long term. With brands spending more and more on Ecommerce platforms and generating a large percentage of total sales through Ecommerce, it is essential for brands to be able to navigate this environment. Brands in China are increasingly built bottom up, and social and commerce driven campaigns need to ladder up."  
The whitepaper identifies key groups of online consumers based on shopping behavior and motivations, presenting strategies to both win over and, more importantly, retain them, a crucial factor in a notoriously fickle market where the cost of customer engagement is rising all the time.  
The paper also addresses key misconceptions behind common approaches to Ecommerce marketing strategy, such as how the deep discounting often practiced by FMCG brands misses the savviest online brand performers who are looking not only at the top line revenue growth, but also the bottom line value to be gleaned from the Ecommerce market. 
"The operating dynamics of Chinese Ecommerce are unique and evolving, but not a complete mystery," said Mike Zhu, Head of Ecommerce & Analytics at Ogilvy Shanghai, co-author of the whitepaper. "We believe that the key to success is a holistic approach providing comprehensive customer experience across all channels, looking beyond conventional Ecommerce practice to respond to changing consumer needs."  
Click here to download a copy of the report.
Share