Pay Back Your Investment in Marketing Technology — Part 1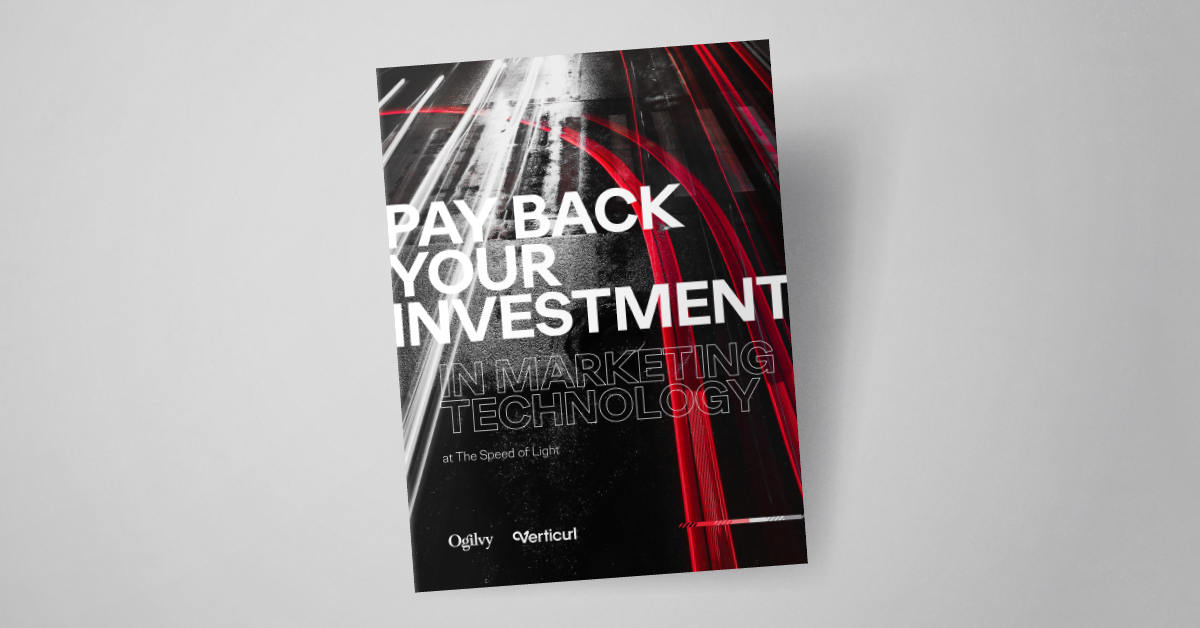 The majority of brands across the globe struggle with optimizing return on capital investments in marketing technology. The reasons for this are complex, but our experience shows that the optimization problem can be solved by focusing on the right things with the right rigor.
Experts from Ogilvy and Verticurl (the marketing technology arm of Ogilvy) have produced a two-part series on how all organizations can ensure robust ROI in their MarTech investment, and why the next era of personalization that we call "Affinity at Scale" is so crucial. This brief presents a proven, unique optimization model for realizing the original promise of marketing technology — incremental revenue generation, enhanced customer experiences, loyalty and competitive advantage via the activation of customer data.
Since modern marketing technologies first arrived on the scene in the 1990s, CEOs across the globe have gone on record every year to say that they are disappointed with the return they have generated from investments in their marketing technology (MarTech) stacks.
Concern from the C-suite regarding tech productivity is justified. According to Gartner, 26% of marketing budgets are spent on marketing technology. Considering this level of investment, the original promise of MarTech to (1) continuously increase revenue efficiencies, (2) drive exceptional customer experiences and (3) create competitive advantage is not an unrealistic expectation. This expectation of obtaining the "NorthStar" of marketing technology optimization has proven elusive for most brands across the globe.
We will present our actual experience with major brands across the globe as well as share our in-depth research into best optimization practices. While sustainable gains in MarTech ROI have been achieved by some Digital Champions, the goal of optimizing investments in MarTech deployments remains elusive for most players.
In this brief, we will: (1) present the reasons for this underperformance, and; (2) unveil our proven optimization model for achieving the NorthStar. 
Click on Here below to download a full copy of "Pay Back Your Investment in Marketing Technology at the Speed of Light — Part 1" report.
Share