Nescafé Launches Sustainability Drive in China With "Cup of Respect" Campaign Developed by Ogilvy Beijing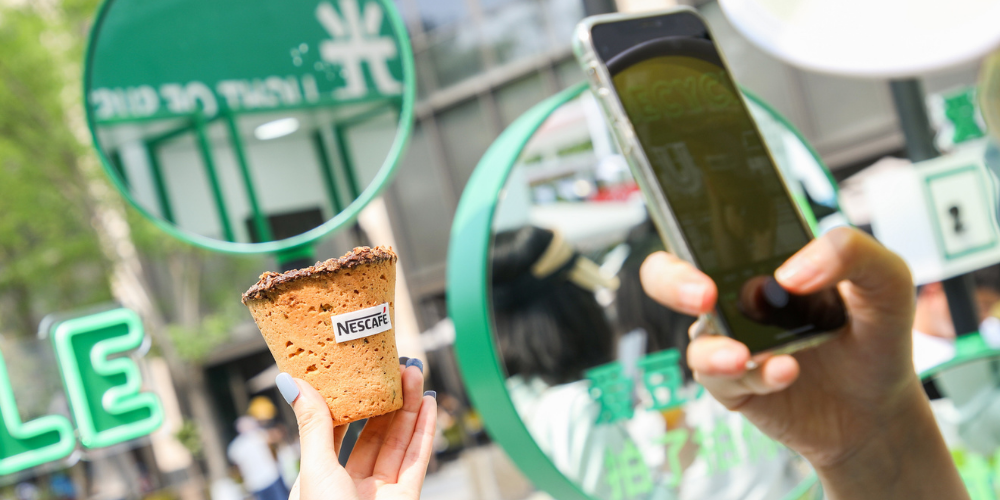 Global demand for coffee is rising consistently across the world, but climate change is threatening to shrink in half suitable land needed for coffee production by 2050. Committed to respectfully delivering great-tasting coffee for over 30 years in China, in 2021 Nescafé joined hands with Ogilvy Beijing to bring its global "Cup of Respect" sustainability program to Chinese consumers, hoping to raise awareness about the impact of climate change and increase brand affinity with young urban coffee drinkers.
Based on the insight that Chinese consumers are not as receptive as their Western counterparts to top-down corporate messaging around brands' sustainable practices, and instead more likely to engage with the concept of sustainability as part of their daily lifestyle, Ogilvy Beijing helped the coffee giant launch a shared value engagement program designed to deepen the emotional connection between coffee lovers and the environment in a highly interactive way. The team designed and implemented a strategic solution informed by data and powered by technology, delivering an omnichannel customer experience to engage with one of the most digital-savvy cohorts on the planet – China's Gen Z.
As a long-time believer that coffee should be sustainable from bean to cup, since entering the Chinese market Nescafé has been committed to developing sustainable coffee agriculture and improving its coffee supply chain, from providing training for local Yunnan farmers, to introducing new Arabica varieties and investing in technology and equipment for improved yields and quality. On this year's Earth Day, Nescafé partnered with 28 boutique cafes across China to recruit "Bean Heroes", offering free coffee to those bringing a reusable cup.
The launch of the program was amplified by the release of 4 films capturing the authentic stories of Bean Heroes making a positive impact to ensure Nescafé's coffee is produced, made, packaged and enjoyed respectfully. The videos quickly went viral on social media, generating substantial UGC content on Weibo and RED.
Together with Ogilvy Beijing, Nescafé developed a community engagement hub via a WeChat mini-program where Bean Heroes could learn about coffee sustainability, register for pop-up events and play an active role in the sustainability movement through an interactive game allowing them to create their own virtual coffee farm. Credits accumulated inside the game could be redeemed for coupons and were also converted into the real world by Nescafé to plant 10,000 shade trees in the region, making a tangible impact on the preservation of the environment.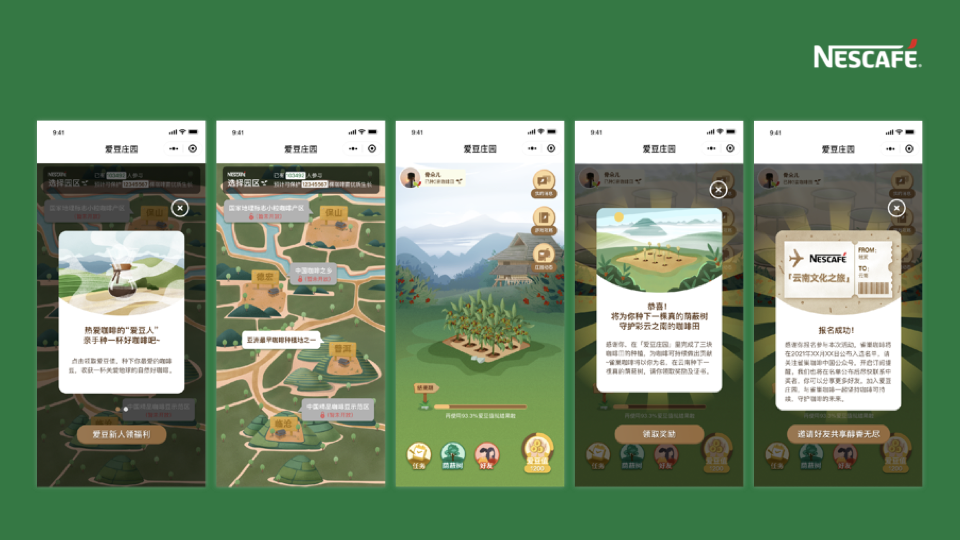 Bean Heroes data collected via the WeChat engagement hub was integrated in real-time into Nescafe's CRM, enabling the brand to leverage data-based insights to constantly optimize its digital customer experience and tailor its content to highly specific target groups. The launch of the "Cup of Respect" program culminated in an offline interactive event where coffee lovers could taste unique blends coming in edible cookie cups and receive eco-friendly accessories by participating in sustainability games and activities on the day.
Sherry Zhao, Head of Communications and Innovation & Renovation (I&R) at Nescafé China commented saying: "Nescafé believes everyone in the world deserves a great cup of coffee made with respect; that is why sustainability is at the heart of our brand purpose and values. Today, 1 in every 7 cups of coffee consumed in the world is a cup of Nescafé. It is our responsibility to drive positive impact on environment, society and our planet. We are proud to engage with consumers via 'Cup of Respect', connecting each and every people along the coffee supply chain, and encouraging small sustainable steps in our daily lives to ensure a better future for the coffee industry and generations to come."
"Seeing how the new generation welcomed Nescafé's 'Cup of Respect' proposition is a testament to the power of strong local insights when it comes to finding innovate ways to engage with consumers, not only enabling Nescafé to authentically shed light on their sustainable initiatives, but also strengthening their brand power and influence." said Sheng Lee, Global Client Partner at Ogilvy China.
Through "Cup of Respect", Nescafé successfully engaged with the younger generation around the topic of sustainability, with post-90 and post-00 consumers accounting for 79.2% of program participants. In just one month, the campaign generated 708 million impressions, over 1.5 million engagements, turning the abstract concept of coffee sustainability into a fun, trendy way of life.
Share