#MixForBoobs by Ogilvy Social.Lab for NRJ Belgium and Pink Ribbon Belgium wins bronze at the Gerety Awards 2022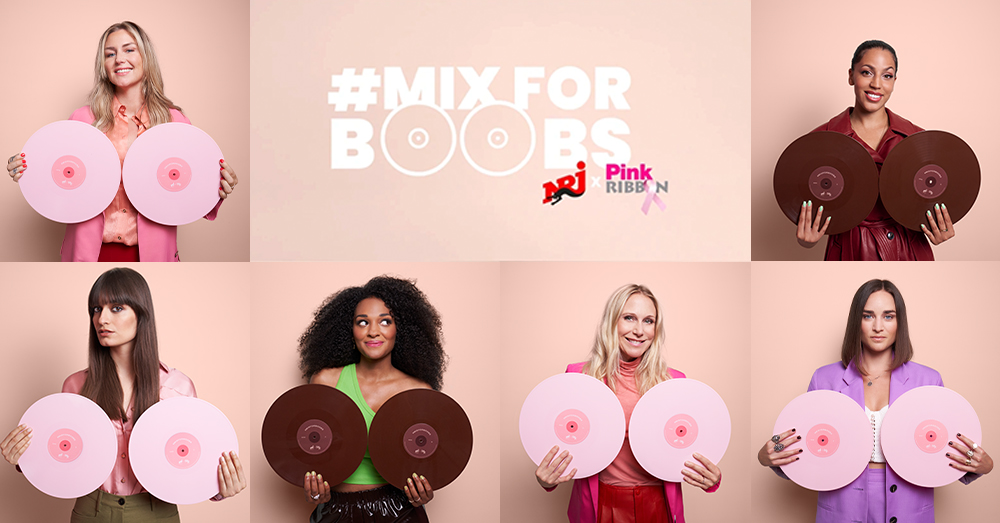 #MixForBoobs by Ogilvy Social.Lab for NRJ Belgium and Pink Ribbon Belgium wins bronze at the Gerety Awards 2022. 
On Tuesday, September 6th, Ogilvy Social.Lab's campaign #MixForBoobs for NRJ Belgium and Pink Ribbon Belgium was awarded bronze at the Gerety Awards 2022. This is the only creative award that rewards advertising work with the greatest impact on a female audience. 
Brussels, September 6th, 2022 - In response to the international breast cancer month in October 2021, Ogilvy Social.Lab, NRJ Belgium, and Pink Ribbon Belgium developed #MixForBoobs, an educational campaign to teach women the essential self-examination movements and recognize the nine warning signs of breast cancer. 
The campaign is based on a simple, yet previously unknown fact: the scratching techniques DJs use to mix vinyl records are identical to the self-examination movements that all women should know to detect breast cancer. To visualize these techniques, the agency and the radio station enlisted the help of artists and influencers to playfully explain the correct movements on social media, reaching a maximum number of young women. Through a video clip, guides, testimonies from a medical expert, and breast cancer survivors, #MixForBoobs reminds us that breast cancer can strike at any age and highlights the nine warning signs to detect it on time. 
The idea of using techniques from the music industry in a playful and useful way to raise awareness among a young audience about breast self-examination through social media and influencers has proven effective and has already been awarded multiple prizes this year, including a Gold Pencil at The One Show 2022 in New York. 
At the Gerety Awards, the global awards for campaigns that resonate most with the female vision, the campaign was now honored with a bronze award in the Health Cut category. In addition, #MixForBoobs was also nominated in the Communication Cut and Health For Good Cut categories. 

Agency: Ogilvy Social.Lab Belgium 
Account Team : Sabrina Schuller, Alyssia Cnudde   
Chief Growth Officer: Christophe Crasselts  
Strategy: Julie Frederickx, Beatriz Chufani, Victoria Van Wymeersch  
CCO: Pete Case 
ECD: Jan Teulingkx, Gabriel Araujo   
Creative Team: Antoinette Ribas, Gregory Ginterdaele   
Creatives: Clémentine Bailly, Marine Quéré, Pieter Decanniere 
Creative Manager: Gabriela Toader  
Design: Xavier Vanderplancke, Rebecca Vallicon 
Media: Mathieu De Moor, Inès Banga, Reginald Forrest, Marine De Decker 
Influence: Stefan Bisoux, James Baldwin, Rahul Titus, Molly Theron 
PR: Laura Verbeelen 
Director: Lisa Carletta 
Photographer: Lisa Carletta 
DOP: Romain Ferrand 
TV Producer: Sofie Van de Wauwer 
Editing: Hyper Film 
Grading: Friction 
Composer: DJ ND, JANEE 
Retouching: Yelle Vandenbruaene (The Living Room) 
Stylism: Francis Boesmans, Liesbeth Verlinden  
Art Department: Dries Vanoirbeek 
Food Stylism: Anja Spriet 
Production (interviews): Jean-Sebastien, Aurélien Delacroix (DELAPRO'D) 
Design (Vinyles): Romain Riousse (Studio Plastac) 
Production (Vinyles): Frank Machtelinckx, Marianne DeMeuleneire 
Voice/Singer (Vinyles): Catherine Sackville-Scott 
Technical crew (Shooting): Ryszard Karcz, Thomas Gérard, Denis Antheunissens   
Food Photographer: Eveline Boone   
Background (Shooting): Michael Vercruysse    
Photograph Assistant: Samir Dari   
Make Up Artist: Elke & Laetitia de Wilde   
Scouting: Ruben   
Studio Location: Monev Studio    
Choreographer: Loys Assal  
Dancers: Sarah Kaya, Crazy Su   
Relentless passion & support: the full Ogilvy Social.Lab Belgium team 
Partners 
NRJ Belgique, NRJ België, Pink Ribbon 
Contacts 
Miguel Aguza, Laure di Francesco, Fiona Gillen, Gaelle Leys, Khalid Boussouf, Solenn Bouw (NRJ Belgique), Sofie Callewaert, Nathalie Delporte, Jo Nachtergaele, Lucas Borgmans (NRJ België), Aimé Van Hecke (Pink Ribbon) 
Special Mentions 
Clara Luciani, Typh Barrow, Charles, Saskia, Aurélie Van Daelen, Gaëlle Van Rosen, Julie Taton, Shalimar Debru, Audrey Piolé, Julie Vermeire, Noortje Palmers, DJ Lady, Maxime Jonckheere 
Interested in bigger, bolder ideas? Sign up for our newsletter for more insights on how brands can make an impact on the world.
Share