Three Rules for Better Engagement Between Pharma and Health Care Professionals
Dear Doctor, are you available to have a video call next Tuesday at 12:30? 
As normal as this question sounds, it represents an immense transformation in the way the pharmaceutical industry has responded to Covid-19. 
Gone are the days where you have five representatives waiting in the hallway for an hour, patiently trying to speak to a key opinion leader for two minutes, hoping all the time that the doctor's harried nurse won't spirit him or her away for administrative work or critical patient care. 
Pharmaceutical representatives can now wait in the comfort of their own home, have a soothing cup of tea in their hands and be ready for an eloquent discussion on disease pathology, drug mechanisms and patient management issues with the doctor. As ideal as this scenario sounds, to make this a credible reality there are a few elements that need to be in place: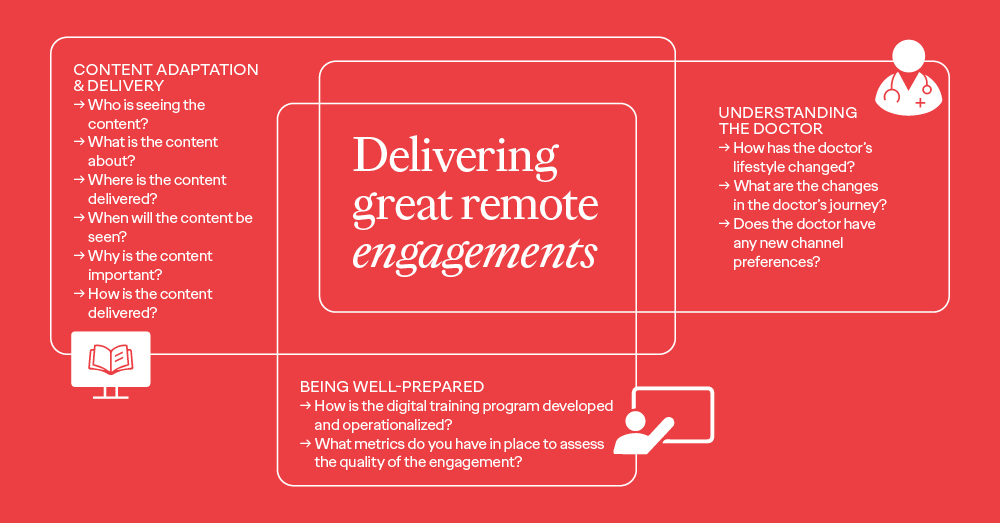 1. Content development and adaptation is critical 
Recently, our client invited us to join a virtual meeting with a leading gynecologist, to understand specific digital transformation initiatives that she would like to see in a patient support program. On the day of the meeting, the gynecologist had performed an emergency procedure just before speaking with us.  She was on her mobile phone and when our client presented relevant data-points for her to consider for the new service, the content specifically required a laptop to be viewed properly. We could see the exhausted doctor, still in scrubs, squinting to understand what the content was all about. 
Doctors are humans just like us. As we continue to participate in more remote engagements with doctors, it becomes critical for us to understand the reality of their lives. A doctor jumping from the operating room to a patient appointment is likely to be on her phone and unable (or unwilling) to engage with a detailed presentation. We must strive to understand how content is going to be viewed, delivered and understood, especially under time-pressured and sensitive circumstances.
2. Only the well-prepared will succeed  
Remote engagements can sieve out the best and worst of the pharmaceutical commercial force. Pre-COVID, during short face-to-face interactions, some representatives would have repeated the same brand messages multiple times to a doctor to ensure high brand recall. That doesn't make sense anymore. Telling the doctor the same thing over and over again, is a quick way to get frozen out.  
In order for the doctor to remain continually interested in the company's value offering, the representative needs to offer diversity in their discussion topics, especially ones that are relevant to the doctor's current medical practice and prove that he or she can be a strong educational partner for collaboration. For this to happen, the company should establish an up-to-date and regular digital training program. 
This training should focus on multiple narratives, customized to different health care professional personas and cognizant of how the interaction will proceed. A client recently shared that one way of helping their sales force improve in remote engagements was to bring in a local radio personality who offered tips on active listening and voice modulation. This enabled the sales force to reimagine how they could structure, enhance and deliver relevant conversations remotely to their doctors.  
3. Understanding the doctor is key 
Doctors' lives are changing. Take the case of a Mumbai doctor who started reducing his in-clinic office hours and instead increased his participation in virtual consultations.  The doctor could not socialize or travel much due to the lockdown and is now home in the evenings.  Pharmaceutical representatives need to be aware of the doctors' new schedules and appreciate that they're experiencing higher eye-fatigue than before. At the same time, doctors have started to have more "me time" available for them in the evenings.  
When sales representatives share these insights, the digital and marketing teams can build and weave interactive content across multiple channels. This reinforces that the company is ready to provide 24/7 support. 
Remote health care professional (HCP) engagements have ushered in a new era to the pharmaceutical industry. By leveraging software as a service (SaaS) platforms that allows us to develop better HCP segmentation plans, supporting the right targeting of content across the customer journeys, and providing an intuitive way of understanding and learning from critical insights and engagement results, we will be able to learn, improve, and optimize our remote engagements. This will in turn enable us to stay true to our core purpose of delivering the best healthcare outcomes for our community. 
Interested in bigger, bolder ideas? Sign up for our newsletter for more insights on how brands can make an impact on the world.
Share